GETTING STARTED
Choosing Your Product from Hunter Douglas requires time, measuring, planning and therefore all products are custom made.  Dressing windows artfully and bringing light into a room beautifully can be done in many ways.  Sheers and shadings are one approach to controlling light; shutters and blinds quite another.  Consider, too, how you live in a room, and how important privacy is to you, and with HD PowerView motorization, one's blinds, shades and shutters are now the most intelligent.  This innovative wireless system lets you move and power window treatment according to the schedules you set all from the app on your smart device.
We would be happy to give an estimate range on the cost of the Hunter Douglas window products, measuring and installing, simply Requesting a Special Quote.   Please give us as much information as possible on product and zip code location for us to give you the most accurate estimate.
Custom Shutters
HERITANCE®
Capture the essence of Southern style and invest in a timeless classic with our Heritance® Hardwood Shutters. These shutters are crafted from high-quality, genuine hardwood and are available in unlimited color choices and unique finishes.
PALM BEACH™
Create a beachy ambiance with Palm Beach™ Polysatin™ Shutters, made with our innovative Polysatin™ material that is UV-resistant and prevents warping, cracking, fading, chipping and peeling. These are the ideal shutters for hot and humid climates.
NEWSTYLE®
The rich look of wood meets strength and durability with our NewStyle® Hybrid Shutters, which are perfect for high-energy family households where enthusiastic play and nonstop busyness are part of the daily scene.
Heritance Hardwood Shutter
Palm Beach Polysatin Shutter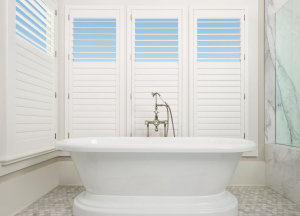 New Style Hybrid Shutter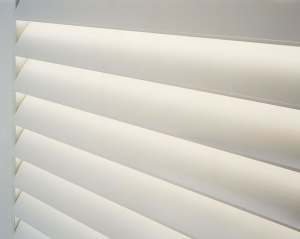 Silouette Window Shading
This innovative design along with a host of beautiful fabrics diffuse and soften harsh sunlight.  All Silhouette shadings feature soft vanes suspended between two sheers that you can tilt to achieve your desired privacy and UV protection.
Sihouette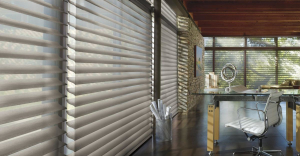 Silhouette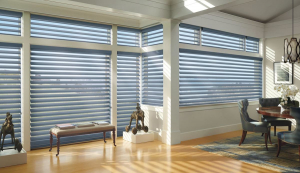 Sihouette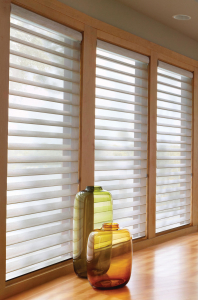 Pirouette Window Shading
Pirouett offers soft, horizontal fabric vanes  that close to filter natural light, or open to give you a perfect outside view.  Choose the convenience of PowerView Motororization to control these shadings and change a room's lighting.
Pirouette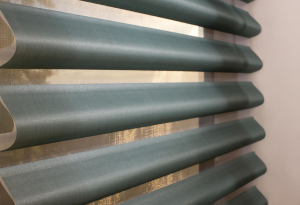 Pirouette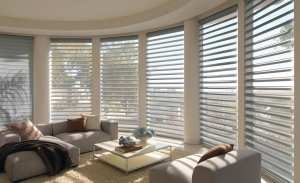 Pirouette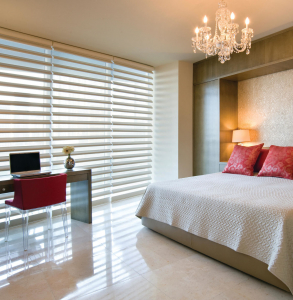 Luminette Privacy Sheers
Luminette vanes rotate for privacy while controlling the light in a room.  Perfect for large windows and sliding doors, their superior UV protection meets both your decorating and privacy needs.
Luminette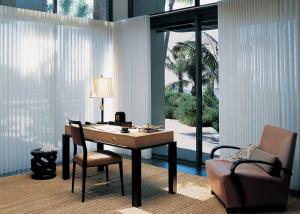 Luminette
Luminette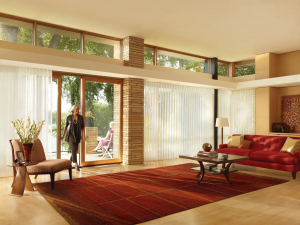 Duette Honeycomb Shades
Honeycomb shades are an attractive, classic choice available in an impressive range of fabrics, pleat sizes, colors and textures.  The shades can be raised or lowered from top or bottom to suit the day and privacy needs.
Duette Honeycomb Shades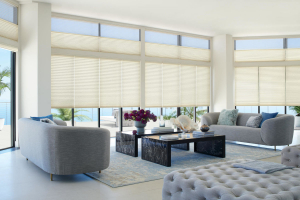 Duette Honeycomb Shades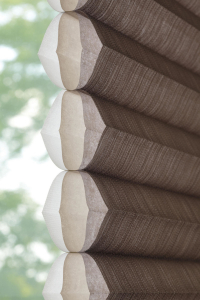 Duette Honeycomb Shades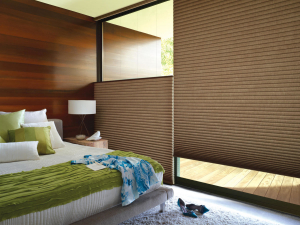 Roman Shades
HD offers roman shades in Vignette Modern, Solera Soft Shades, and Design Studio.    Roman shades are simple, uncluttered their soft folds give a clean, crisp look, with the added benefit of enhanced child safety.  Offered in semi-sheer, light-filtering and room-darkening fabrics.
Vignette Modern Roman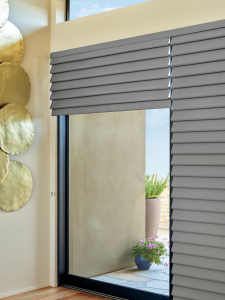 Solera Soft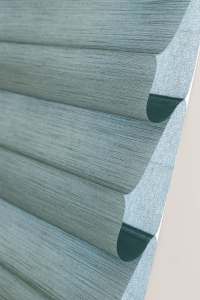 Design Studio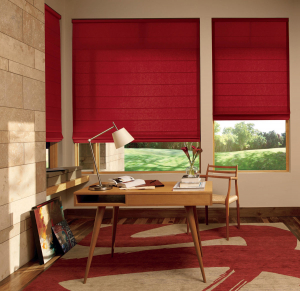 Roller Shades
HD offers Designer Roller Shades, Designer Screen Shades, Sonnette Cellular Roller Shades and Designer Banded Shades. There designer roller shades are clean in appearance and have the most comprehensive fabric collection available.  Designer screen shades balance privacy with views, you can select the view and level of light control and designed to provide UV protection.  Sonnette cellular roller shades combine the dimensional, energy-efficient construction of a cellular shade with the clean lines and simplicity of a roller shade.  Designer banded shades featuring alternating sheer and solid fabric bands that combine into a single shade.
Designer Screen Shade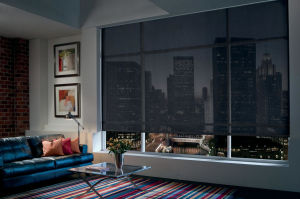 Designer Roller Shade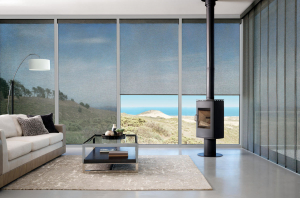 Designer Banded Shade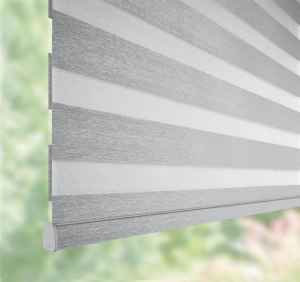 Sonnette Cellular Roller Shade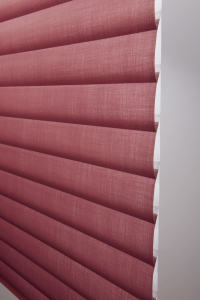 Provenance Woven Wood Shades
Crafted from natural woods, reeds, bamboo and grasses, woven woods shades lend natural beauty and light transformation to one's decor.
Woven Wood Shade
Woven Wood Shade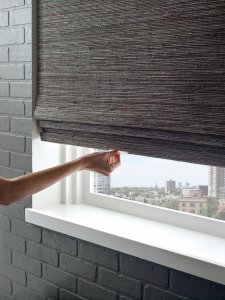 Woven Wood Shade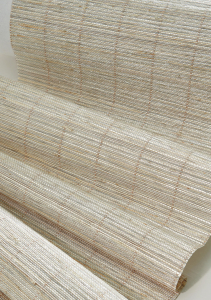 Horizontal Parkland Wood/EverWood Alternative Wood Blinds
Traditional styling and rich hardwood slats create a warm and inviting home, available in a variety of colors and three slat sizes.  Alternative wood blinds have classic, realistic TruGrain finishes but are guaranteed against fading, yellowing, warping or bowing which makes them perfect for the humidity of bathrooms or rooms that receive full sun.
Parkland Wood Blind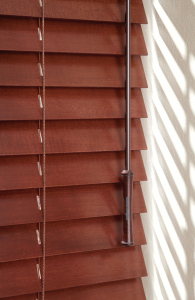 Alternative Wood Blind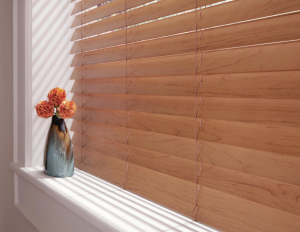 Alternative Wood Blind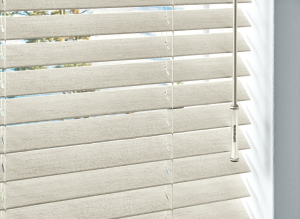 Horizontal Metal Aluminum Blinds
Sleek, slim aluminum slats offer maximum light control and a clean, uncluttered look.  Enjoy special finishes and textures, from metallic to pearlescent to matte, and a range of attractive hues.
Modern Precious Aluminum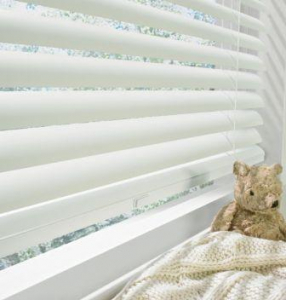 Modern Precious Aluminum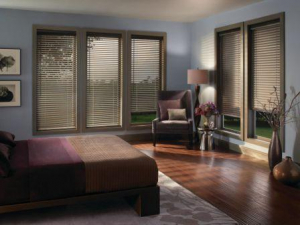 Vertical Skyline Panels, Somner Custom, Cadence Soft
Skyline Gliding Window Panels offer a sleek answer for both large and small window expanses.  Open, they stack tightly to offer the maximum view; closed, they display their rich fabrics and texture.  Somner feature easy operation and superior light control.  Cadence soft vertical blinds feature curved vanes, mimicking soft drapery folds that offer exceptional sound absorption.
Skyline Window Panel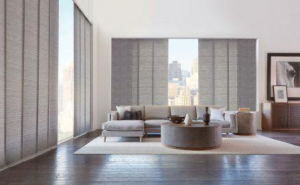 Cadence Soft Vertical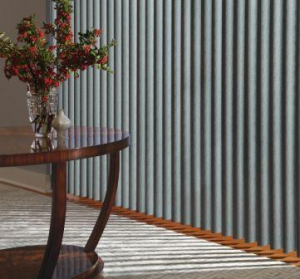 Somner Custom Vertical